Portfolio performance management
Going beyond the day-to-day operations focus of typical wind and solar Asset Performance Management (APM) platforms, Clir's software provides insight on the wide range of factors impacting portfolio financial performance.
From event reconciliation and identification of potential AEP gains to portfolio-level KPIs and board reporting, Clir's platform provides a comprehensive portfolio performance and risk management suite.
Actionable insights into risks and performance, portfolio and asset-level insights, and operations and board reporting help to realize significant improvements across the project lifecycle. We were searching for an alternative AI platform to increase our portfolio's energy production. Clir Renewables turned out to be a great option for our needs as it combines the historical operational datasets we provided with powerful AI technology and technical expertise to increase our AEP and to minimize operational costs.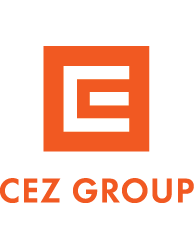 Carefully selected actions
Gain early and comprehensive insights into the technical and financial opportunities for your assets. Clir delivers farm- and portfolio-specific insights and recommendations rather than simply displaying raw data. Our actions cover data quality, performance optimizations, risk mitigations and inputs to optimize the financial model. The core areas of focus are production, operations, insurance and debt.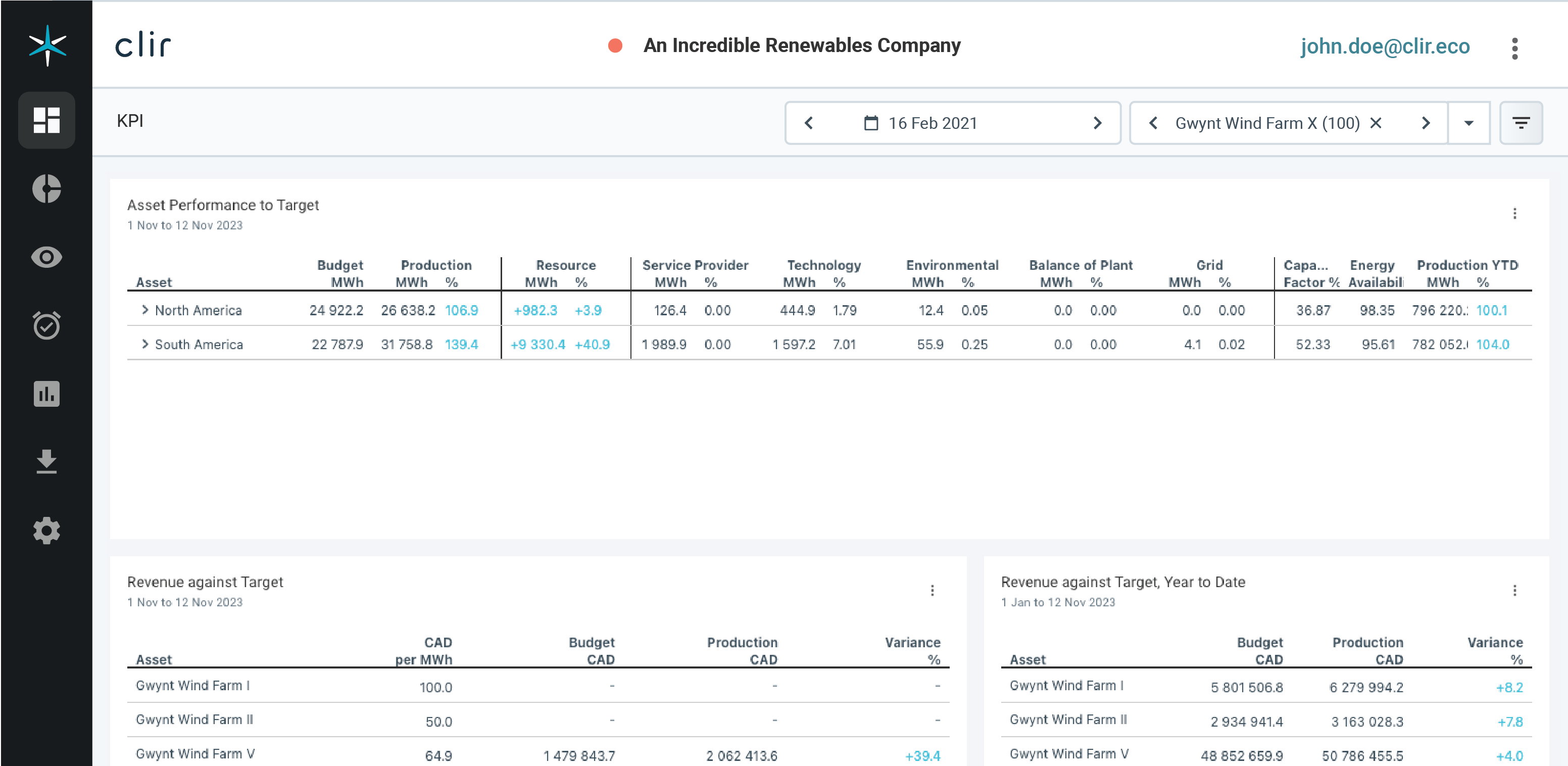 Portfolio and asset level KPIs
Quickly gain transparency into portfolio performance with industry standard and custom KPIs. Review KPI trends and report on asset performance against budget, or against portfolio and industry peers.
Automated detection
and categorization of underperformance
Machine learning detectors automatically identify and categorize sources of underperformance, data gaps and performance anomalies. This proactively calls attention to opportunities for optimization that may otherwise be left uncovered.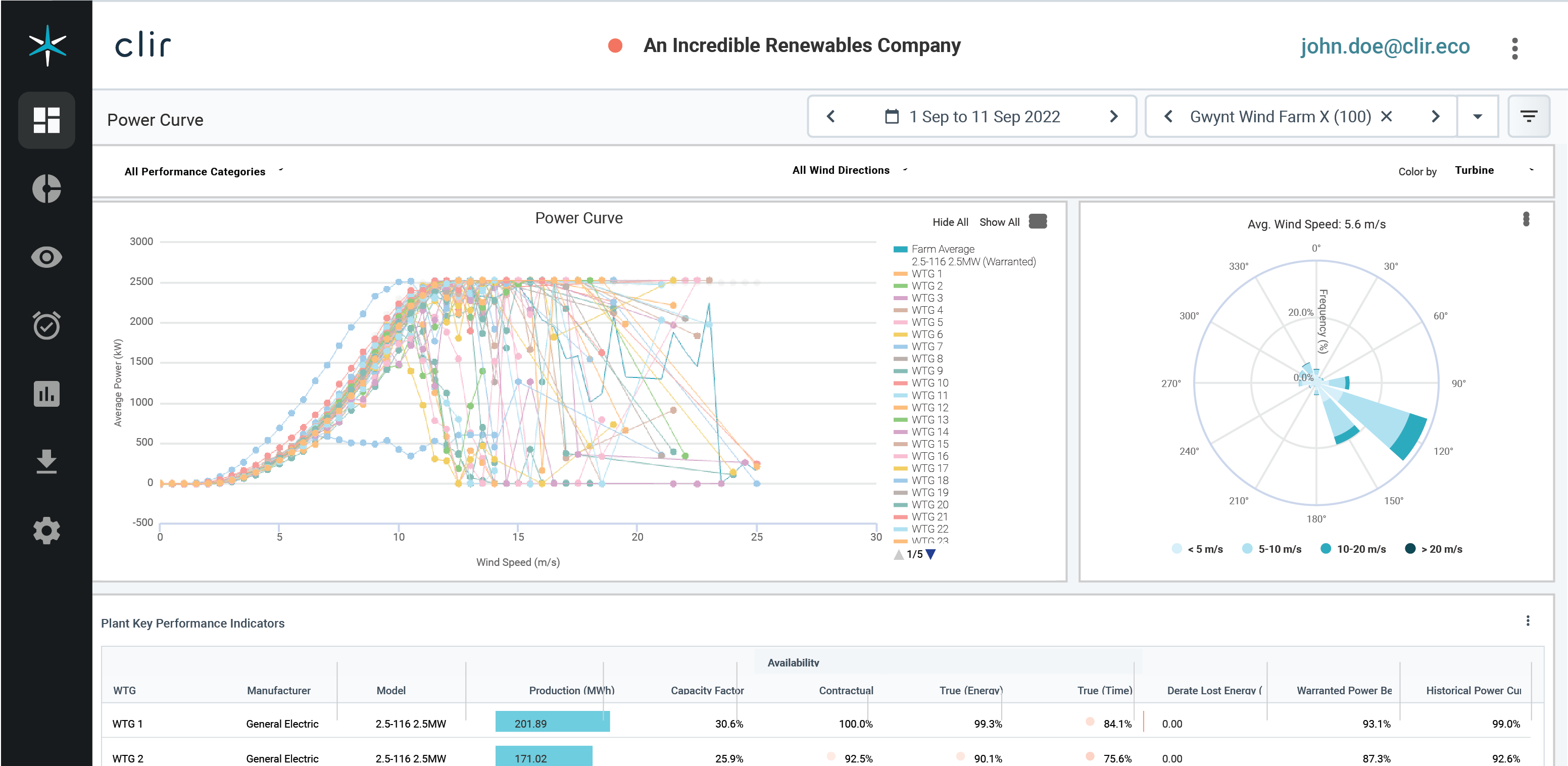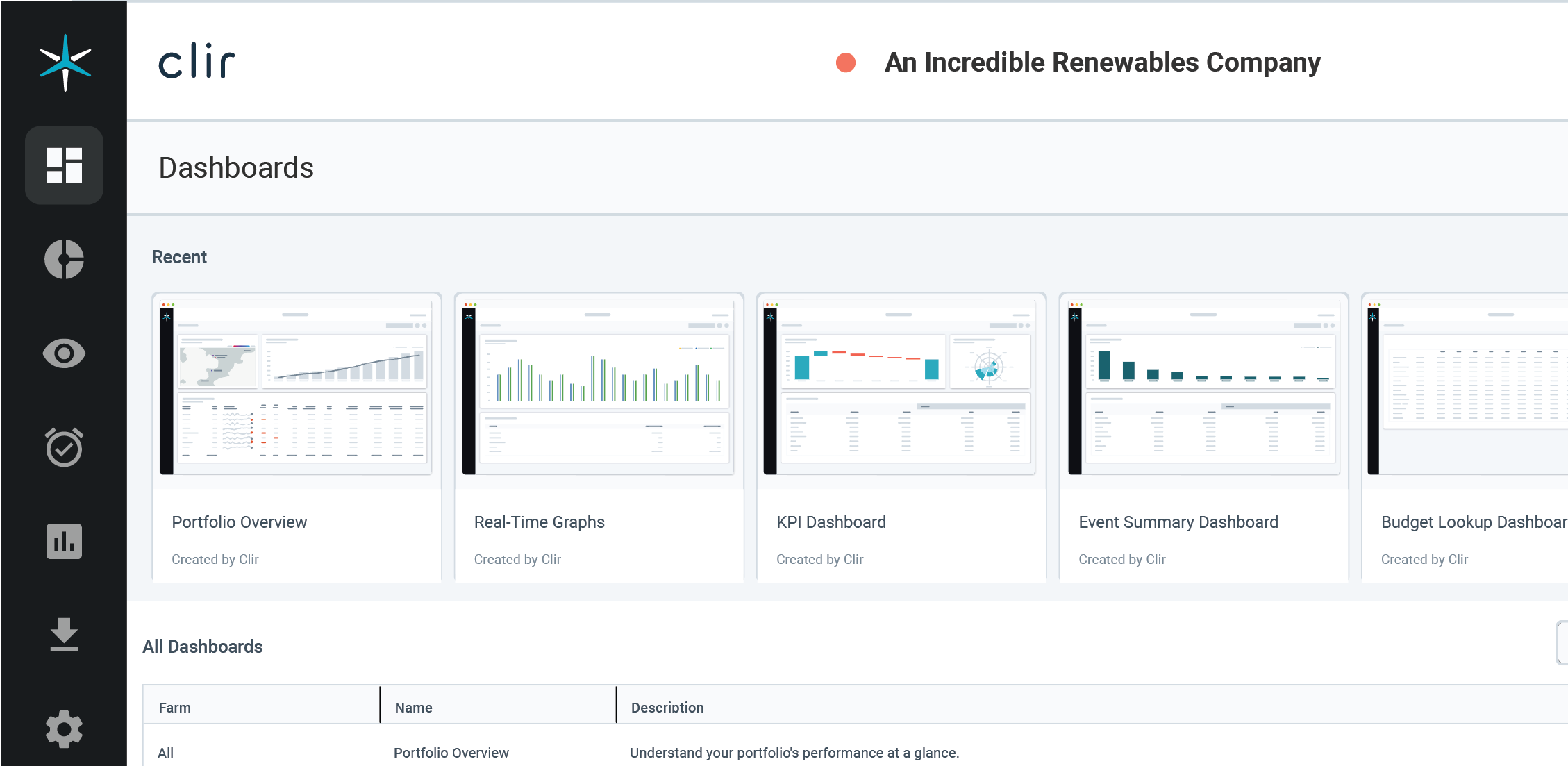 Tailored dashboards
Clir's software is designed to be valuable for the wide range of stakeholders involved in the operations and management of wind and solar assets. Insights from technical data can be delivered in many ways — whether you prefer to focus on financial indicators or technology performance, there's a dashboard for you.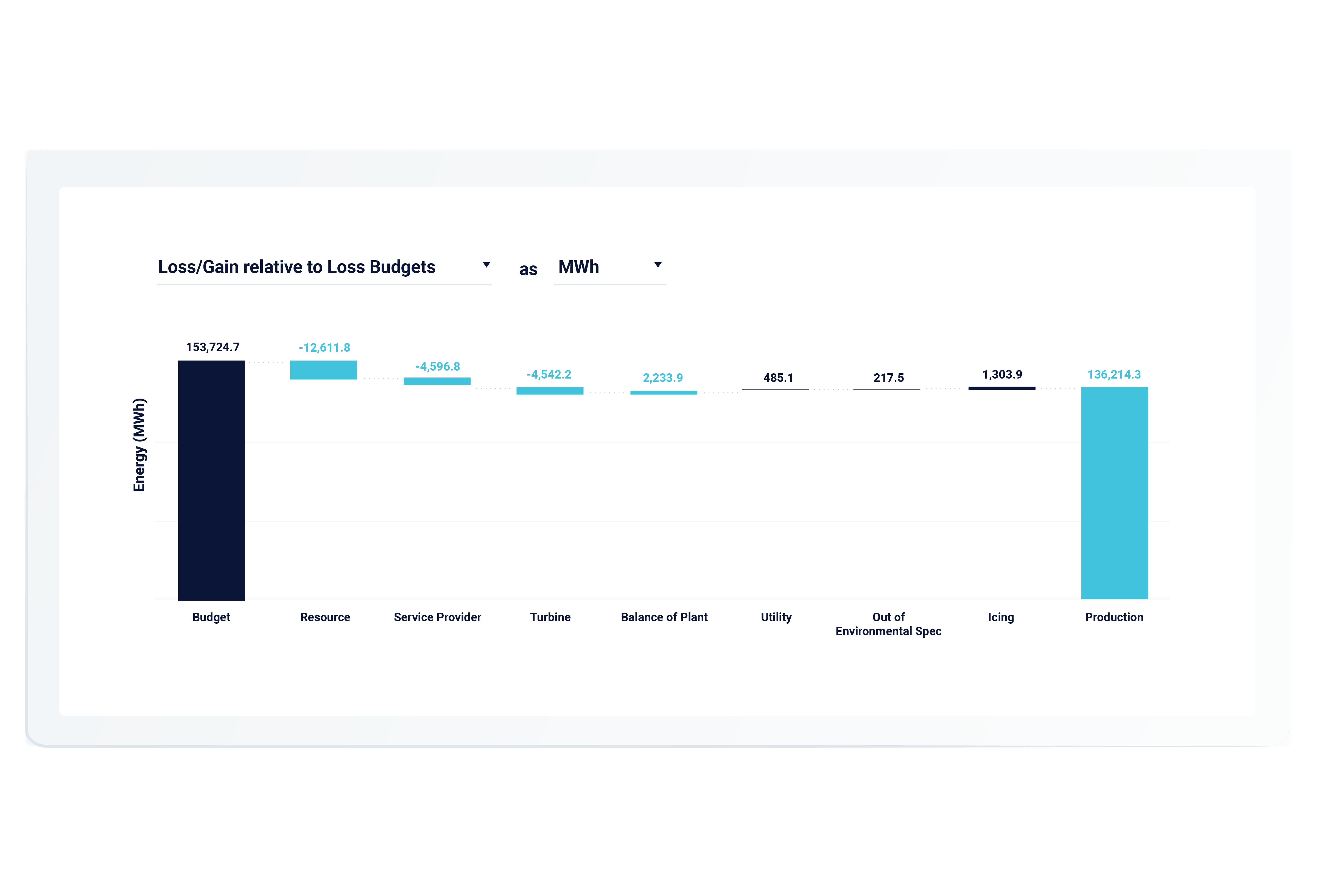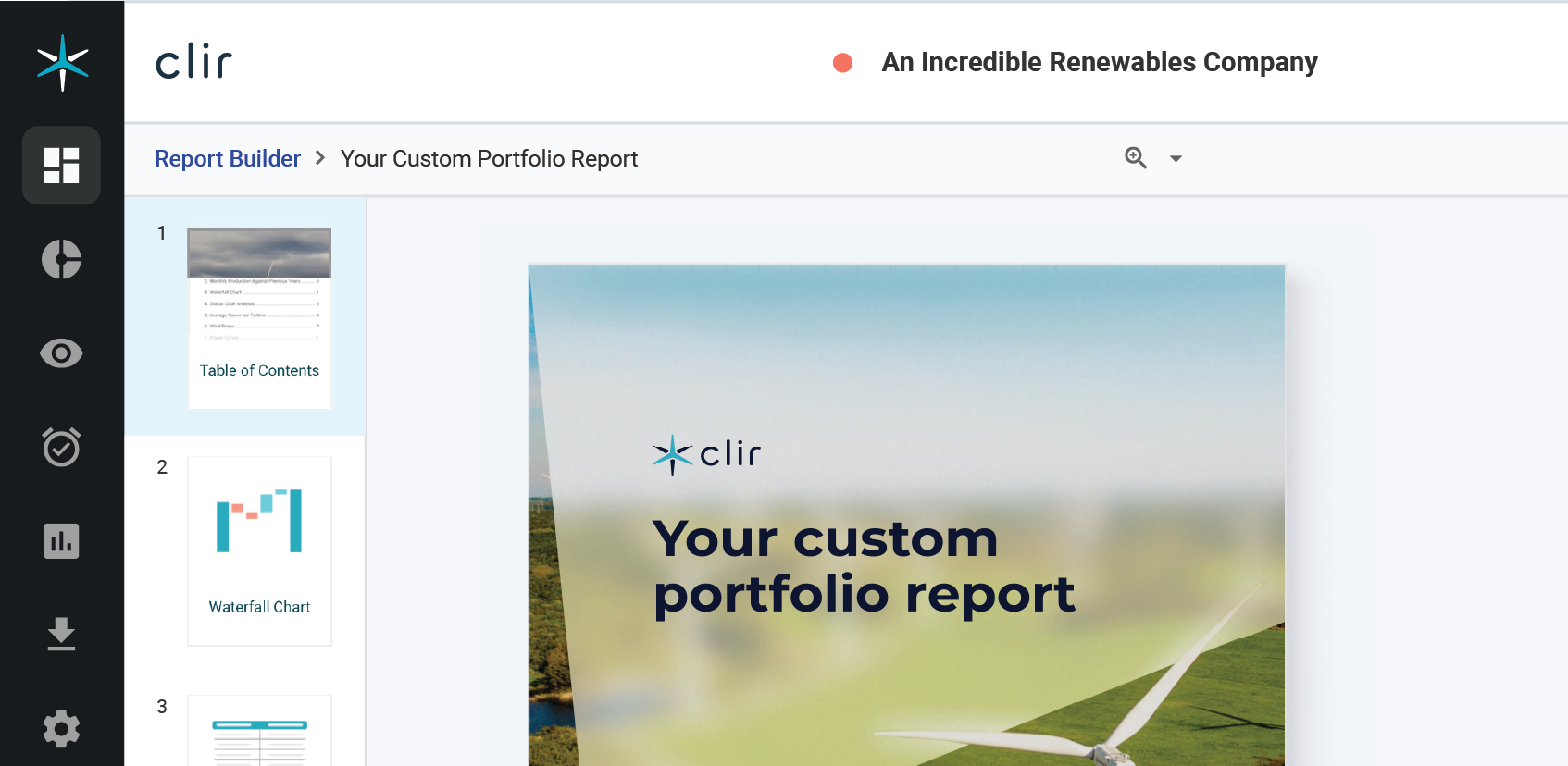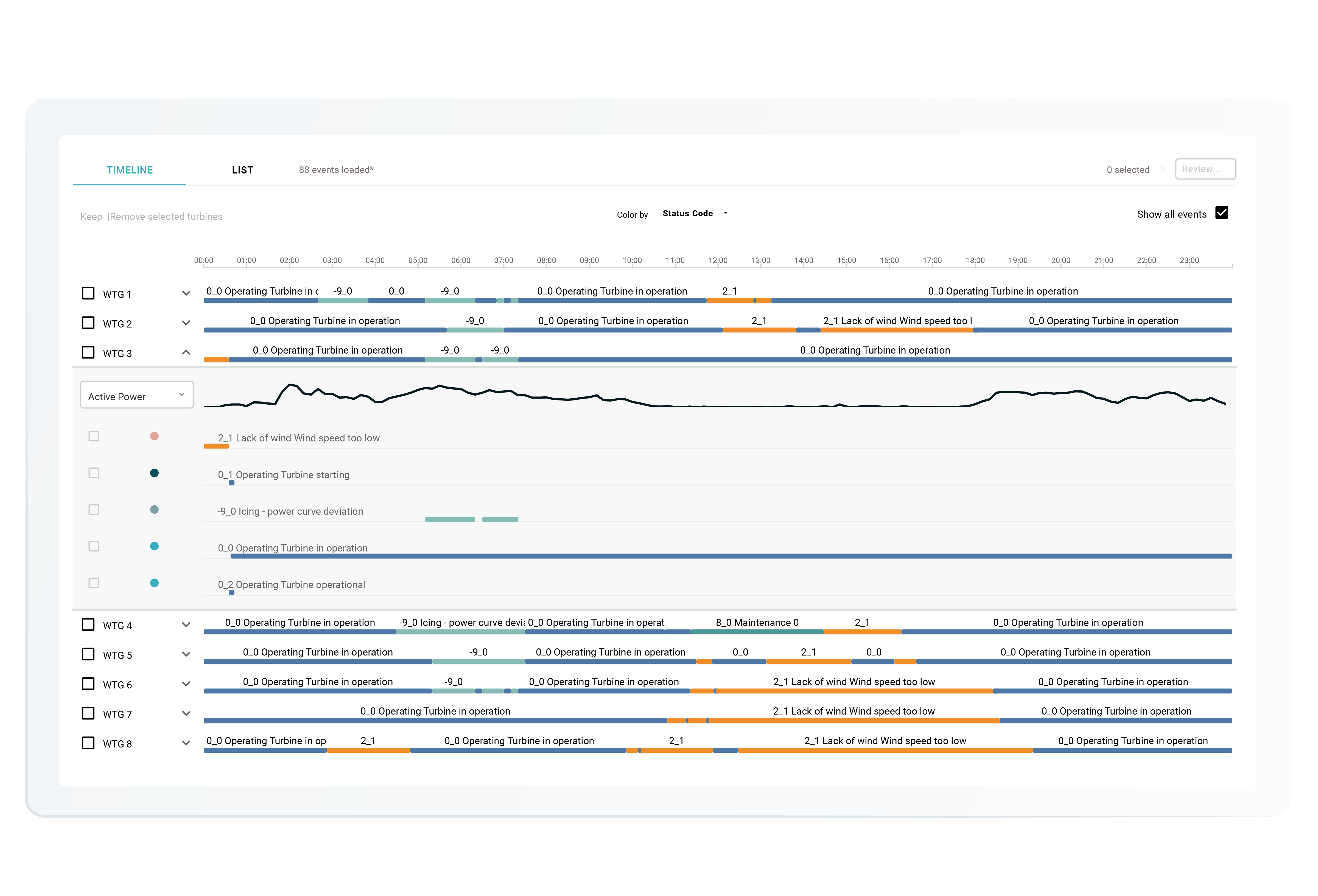 Book a demo
Leverage data, AI and technical expertise to maximize financial returns.
Leverage market intelligence.
Increase production.
Minimize operational costs.
Typography
Display 1
Display 2
Heading 1
Heading 2
Heading 3
Heading 4
Heading 5
Heading 6
Paragraph
Small Paragraph
Large Paragraph
Blockquote
Large Blockquote
---
Lists
Unordered List
List item
Lorem ipsum dolor sit amet, consectetur adipisicing elit, sed do eiusmod tempor incididunt ut labore et dolore magna aliqua.
List item
Ordered List
List item
Lorem ipsum dolor sit amet, consectetur adipisicing elit, sed do eiusmod tempor incididunt ut labore et dolore magna aliqua.
List item
Bulleted List
List item
Lorem ipsum dolor sit amet, consectetur adipisicing elit, sed do eiusmod tempor incididunt ut labore et dolore magna aliqua.
List item
Check List
List item
Lorem ipsum dolor sit amet, consectetur adipisicing elit, sed do eiusmod tempor incididunt ut labore et dolore magna aliqua.
List item
Bullet Check List
List item
Lorem ipsum dolor sit amet, consectetur adipisicing elit, sed do eiusmod tempor incididunt ut labore et dolore magna aliqua.
List item
Buttons
---
Links
---
Forms
---
Tables
| th text | th text | th text |
| --- | --- | --- |
| td text | td text | td text |
| td text | td text | td text |