An intelligent assessment for risk reduction.
Precise view on asset health
Combining insights from a global dataset with a deep analysis of project-specific risks enables a more precise view on the health of assets.
Data-led best practices
Owners get earlier and deeper insight into risks impacting their wind and solar assets. The assessment also creates a best practice framework for long-term risk management.
Improved insurance, financing and M&A
By providing data-driven evidence of current risk, and measures to be taken for risk reduction, the assessment can improve the economics of projects. Case study
Leveraging Clir Risk for GCube Smart Insurance led to: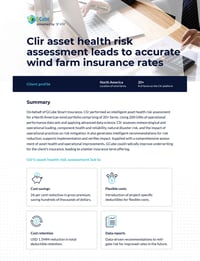 A 26 per cent reduction in gross premium.
Introduction of project-specific deductibles for flexible costs.
Data-driven recommendations to mitigate risk for improved renewable energy insurance rates in the future.
Clir Risk assessment framework
Clir Risk assesses and collaborates with owners to improve assets based on the results from four key asset health categories.


Asset health
Analyzes and compares operational indicators — such as meteorological and operational loading, component health, and extreme weather risk — for a clear view of risk.
Meteorological loading
Operational loading
Existing health issues
Natural catastrophe risk
Asset reliability
Reliability of equipment, and effectiveness of O&M practices, are evaluated based on failure rate and repair time using site-specific SCADA data and Clir's benchmarking data.
Mean failure rate
Mean repair time
Major failure frequency and claim history
Known wind turbine issues
Operational practices
To encourage best operational practices, Clir assesses areas that impact asset failure, and provides clients with a roadmap to improve operations and mitigate risk.
Drivetrain inspection and monitoring
Blade inspection and monitoring
Major component replacement
Storm preparedness
Contractual risk
With applied research and domain expertise, Clir can assess how different contractual approaches influence risk and downtime.
Warranty
Service agreement
Major maintenance budget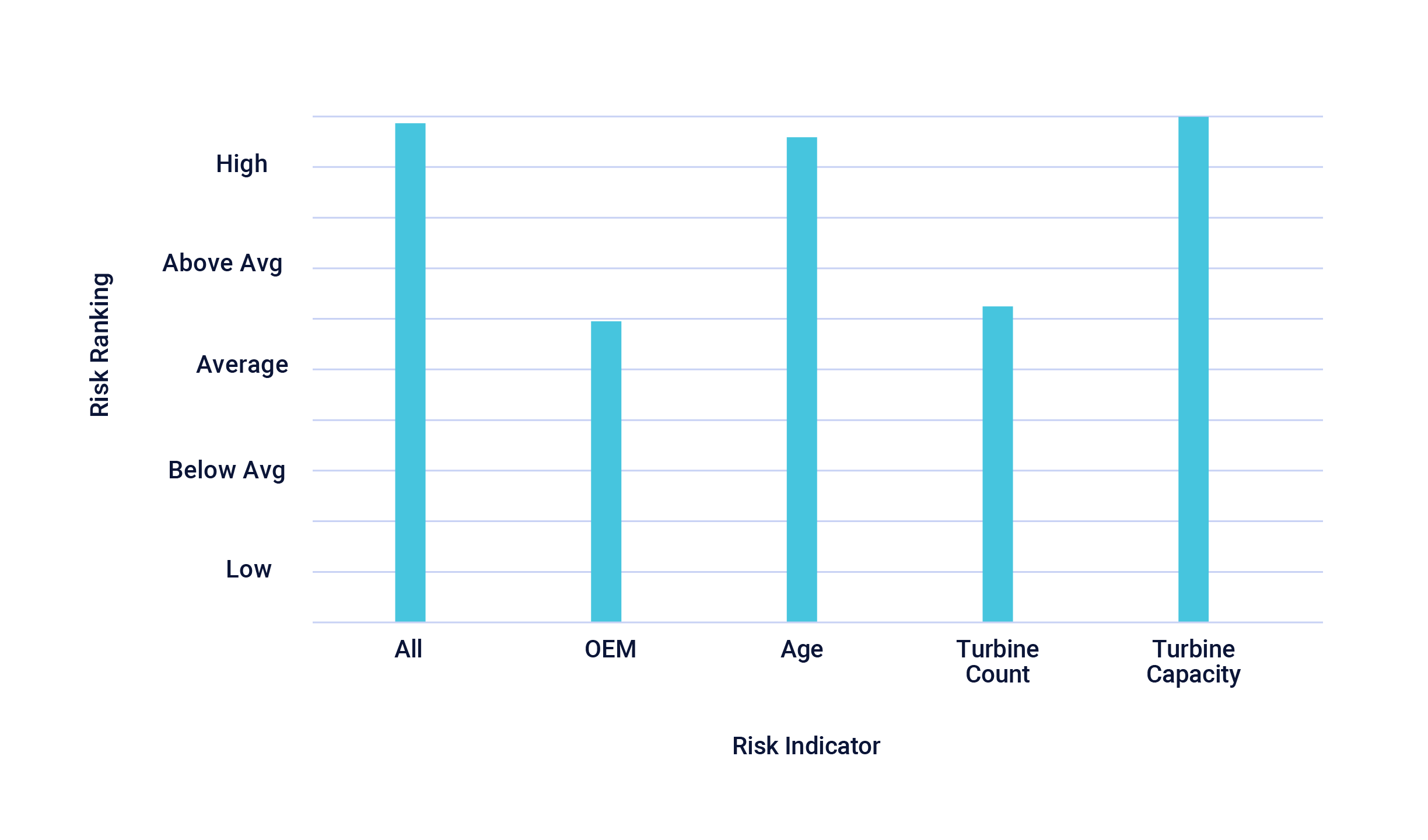 Best practices for top claim risks
Leveraging Clir's technical expertise and operational data, the report highlights the five risks most likely to drive claims at the farm and provides further details, including:
Risk description
Common causes
Fault identification
Risk mitigation
Prediction
Frequently asked questions
No, potential improvements to renewable energy insurance terms are the result of the asset health risk assessment and framework which are completed during the first year before renewal. Learn more about the timeline under technical risk.

GCube insurance is used for so many assets that they get an early warning of issues and access to massive asset intelligence. This enables visibility into real-time issues the market is experiencing, which the clients can take advantage of. Talk to an expert
Gain highly accurate insights into asset health risk.
Precise view on asset health.
Data-led best practices.
Improved insurance, financing and M&A.